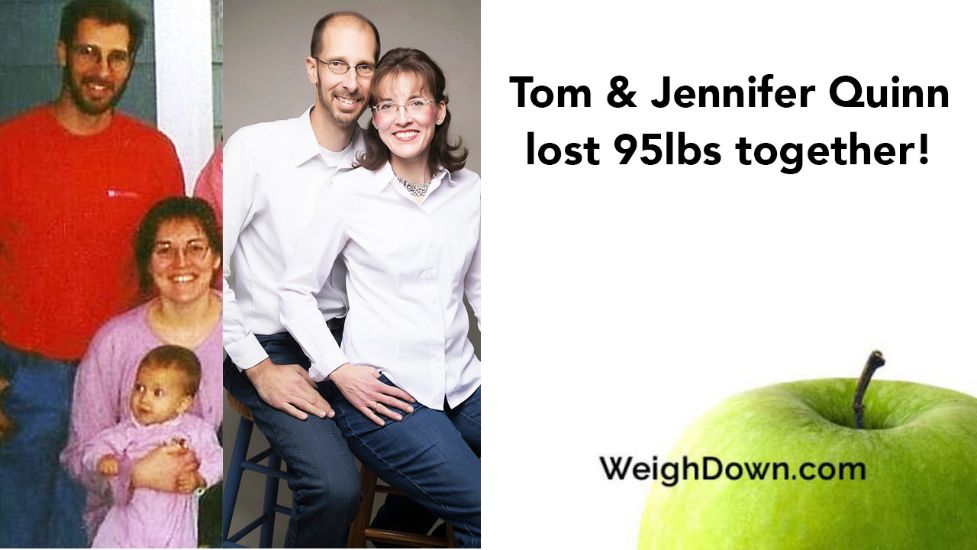 Tom and Jennifer Quinn – Weight Loss of 95 Pounds
January 19, 2018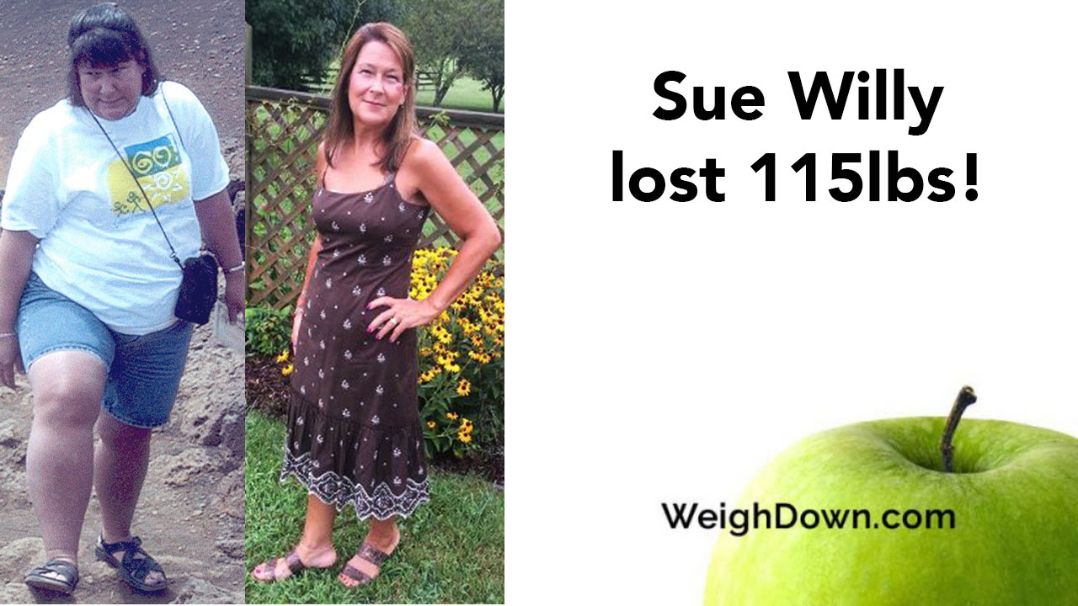 Sue Willy – Weight Loss of 115 Pounds
March 13, 2018
Tori Sadler – Weight Loss of 47 Pounds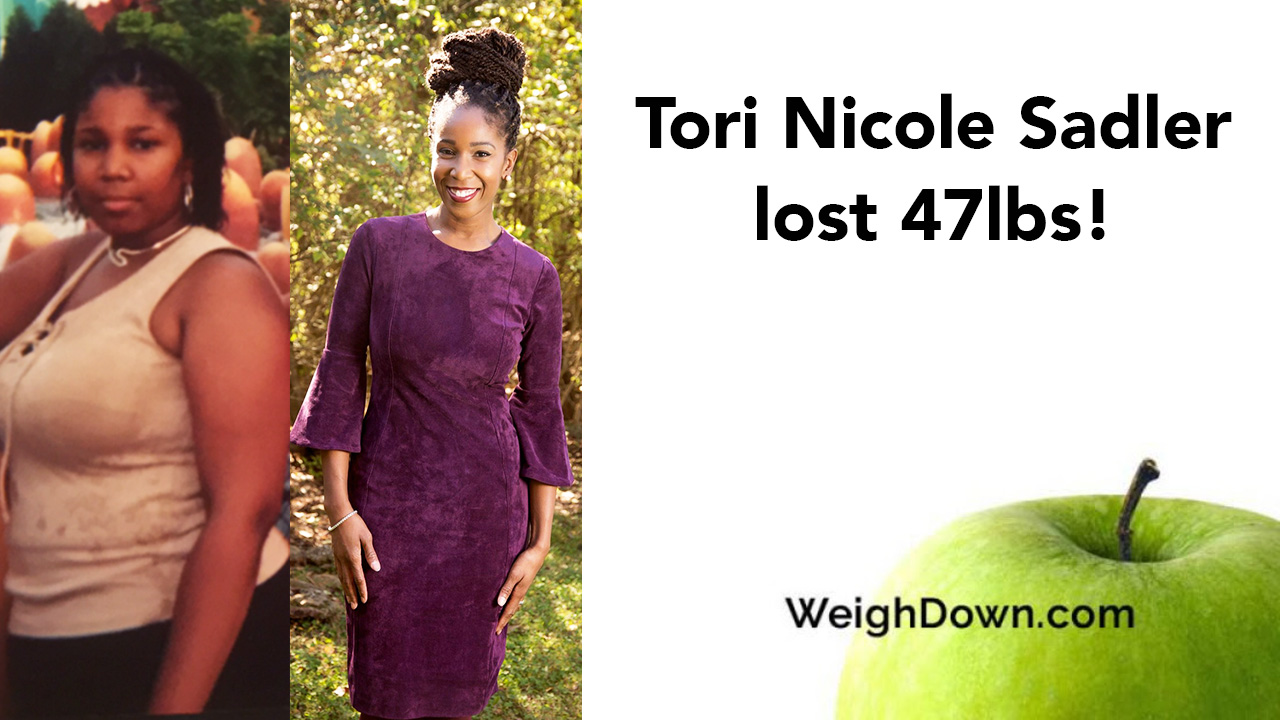 Searching for Answers in Higher Education But Finding No Real Truth
Tori Nicole Sadler grew up in Boston, MA and was naturally loving and kind. She often used being outgoing to mask loneliness from not having many friends.  Her struggle with food started in 8th grade, and the insecurity of gaining weight affected her grades through high school.
In 2007, she moved to Atlanta, GA to study Mass Media Arts at Clark Atlanta University. Tori says, "I barely graduated with my B.A. due to distractions including over-drinking, lust, drugs and loneliness. I found myself crying out to God to 'save me' from my actions, which were driving a wedge between my parents and me."
Within 5 years after graduation she impulsively moved back in with her parents, now in Washington DC, because she wanted to teach children with special needs. So Tori pursued her Masters in Bilingual Special Education at George Washington University. Then in 2012, she moved back to Boston to continue studying but didn't complete her Masters.
Tori explains, "Every move I made was in hopes to 'start over' from failed relationships that had led to 'commitment issues' and distrusting others. I was told by a therapist that my inability to focus was 'okay' and was diagnosed with Adult ADHD.  My parents called me 'wishy-washy' and prayed that I'd follow through on SOMETHING.  I was now 29, restless, and spiraling out of control."
Finally, the TRUTH!
Tori says that she feels like she had been searching for Remnant Fellowship and Weigh Down Ministries all her life. She knew the search was over when her boyfriend in DC at the time introduced her to Remnant Fellowship Church in October 2013. He invited her to Tennessee to visit and attend the Eldeen/Leaman Remnant wedding.  She says, "During the week-long visit, while staying with his extended family (members of Remnant Fellowship Church), his aunt gave me the History of the One True God book, and after reading it I quickly realized that I had been given the key to undeniable treasure!
"I was overjoyed with the fruit it produced in my life and immediately began webcasting the Remnant Fellowship Church services from Boston and putting into practice what was being poured out through Gwen Shamblin. My family was thrilled as they noticed a positive difference!  God eventually moved me to Tennessee on Valentine's Day in 2014.  When my mother came to visit later that year, she said, 'Tori, you are in the right place,' which was a kiss from God considering I had caused my parents so much grief prior to finding Remnant Fellowship and Weigh Down.
A Transformed Life, a Covenant Marriage & a Beautiful Baby Girl
"I am a new creation and the best person that I have ever been because of what I have learned through these teachings. I give all praise to God for this beautiful healing transformation by saving me from the destructive path I was on. I had given up on marriage and having a family, but God allowed me to meet a wonderful man – Saul Sadler and marry him in this glorious church on May 9, 2015!  (See Saul & Tori's Remnant Wedding) Then I was blessed to have a peaceful and healthy pregnancy. We now have a beautiful 18-month-old daughter – Amelia Eden.  This journey has been more than weight loss. I have something I never had and am humbled and honored to pass down to my daughter – a true relationship with God."
Before her pregnancy, Tori had lost 40 pounds following the principles of Weigh Down. With her pregnancy, she gained 40 pounds, and now she is 7 pounds lower than her pre-pregnancy weight altogether losing a total of 47 pounds!  In addition, she has overcome greed, anger, anti-authority, lust, self-focus, self-pity, insecurity, over-drinking, drugs and depression!
Weigh Down is the Real Answer for Permanent Weight Loss
"Before Weigh Down", Tori says, "I tried bulimia, fad and extreme diets, harsh exercise, and dehydration wraps. I even wrapped my stomach with masking tape in high school to TRY to give the illusion of having a smaller body. It was crazy! My skin stuck to the tape when I tried to take it off and it made me even MORE miserable and DESPERATE. NOTHING has given me the peace and permanent results like Weigh Down!"
"I delight in watching the You Can Overcome shows and staying plugged into the Bible study resources of Weigh Down through Weigh Down All Access. During pregnancy I listened to the parenting talks and still enjoy them along with Zion Kids and Zion Youth.  Gwen breaks everything down to where even babies can learn how to connect with God!
'"Staying in a class has been an integral part of the success. The accountability and love received from everyone on this journey consistently charges me to never go back to who I used to be prior to Remnant Fellowship and Weigh Down. I love serving God's Kingdom and encouraging others, especially on the Weigh Down Facebook page.
Tori Nicole – Fashion Designer
Tori has always wanted to be in fashion since she was a little girl and use it as a way to spread love to others. Both of her grandmothers were seamstresses. Her handbags have been featured in boutiques and fashion shows in Boston. Since joining Remnant Fellowship and learning how to lay down her strongholds, God has allowed Tori's gorgeous bags to be featured in British Vogue and worn by celebrities! She was recently named "2017 Designer of the Year" by Indie Ville TV.
Tori concludes, "Now I get to use my gifts as a tool to spread the love of GOD to others and share my story.  I know that everything good and exciting that has happened is His doing! I am forever grateful that God has given me a second chance at life!"
---
---