For advanced participants who need a Strong Restart
Breakthrough Class, for advanced participants who are stuck on a plateau.
This class is for those who have been stuck on a weight plateau and need a push to breakthrough to the next level. This is for the advanced student who has completed Weigh Down Basics, Exodus Change or The Last Exodus and has lost weight. This class is powerful and direct with charts and logs that help you see where you are missing the Spirit in your day or why you are not staying consistent day after day. This class can help anyone get off their plateau and let go of any excess food.
You will have access to this powerful class for 90 days. This class contains 8 video lessons along with 8 audio class lessons. In addition, you will have access to a downloadable Breakthrough Workbook and reinforcement lessons to keep you focused. If you would like to purchase an additional hard back workbook, click here.

SPECIAL NOTES:
A high-speed Internet connection is required.
Class videos can be viewed on both Windows PC and Mac computers as well as on all Internet-accessible Mobile Devices (a WiFi connection is recommended for the best viewing experience). If you are a Weigh Down TV subscriber, you can also view your class through the Weigh Down TV app for Apple, Android, Amazon Fire and Roku devices.
You will need to provide your own Bible.  This class uses the NIV 1984 Bible.
How does this class work?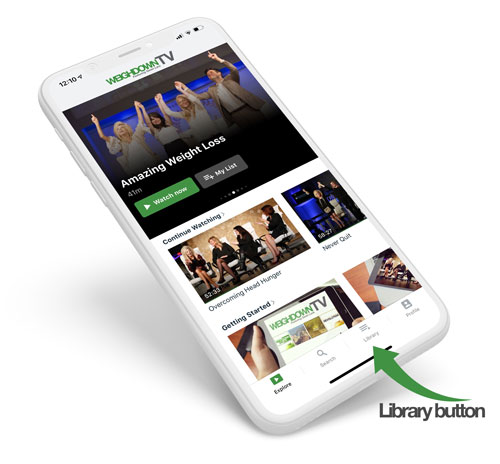 Once you have signed up for The Breakthrough Series as a stand-alone class or you have subscribed to Weigh Down TV, you will have access to it right away! If you rented the stand-alone class, you can view your class on the Weigh Down TV website by clicking on the link in the e-mail you will receive once you have signed up OR returning to WeighDown.tv at any time and logging in and going back to the class video page
HERE
.
If you are a Weigh Down TV subscriber, you will find the class in the Classes category of your app as well and can access it from any device the Weigh Down TV app is installed on.
We look forward to getting to know you, and if you have any questions, please let us know. 
Also, all Weigh Down Classes are available on demand through Weigh Down TV. Choose to participate on your own, or in a group setting. Please see our full list of current classes with coordinators posted on the
Weigh Down Facebook Group
.
** Beginning January 1, 2021, the Breakthrough Series will also be available as part of the Weigh Down TV monthly subscription!  Enjoy as many classes as you like for one low subscription rate of $19.99/month! **