Welcome to Faith-Based and Permanent Weight Loss
God has the answers... let's get you started!!
Are you sick of dieting? More importantly, are you tired of failing at those diets, only to lose hope of ever losing weight? Well, you are reading this for a reason! You have found the answer to permanent weight loss! It doesn't matter if you have 10 pounds to lose or 200...the blueprint is exactly the same.
Step 1
---
Watch the 20-Minute FREE Orientation video for Weigh Down Basics.
Lay the foundation in your life to permanent weight loss! Get rid of mindless eating, diet rules, harsh treatment of the body!! This class will get any beginner started and anyone who has been in classes for a while to break free!! You have nothing to lose but the excess weight!
Step 2
---
Watch Weigh Down Basics Lesson 1 for FREE!
You will learn all you need to know to get started on your weight loss journey. Just share your name and email with us and watch Week 1 right here on this page! The combination of orientation and Lesson 1 will give you the Basics to get started and fulfill your mini-class.
You will also receive an email with a code to take the entire Weigh Down Basics class for 30% off.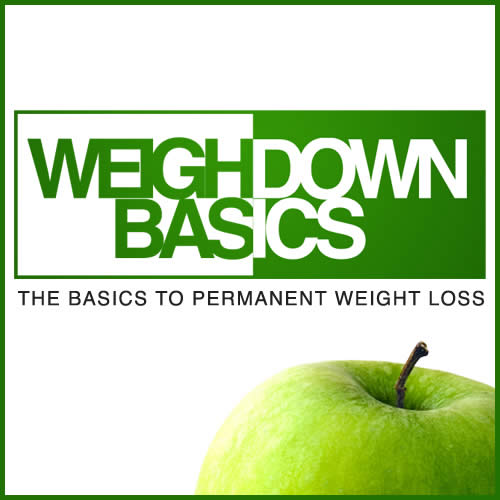 Step 3
---
Join our Weigh Down Facebook Group!
Join a community of thousands of Weigh Down participants on our Facebook Group page for daily encouragement!
JOIN OUR FACEBOOK GROUP
Want more than just a single class? Subscribe to Weigh Down TV! Get full access to All of our available classes and video resources for ONLY $19.99/month!