Get Ready to Lose All Your Excess Weight!


Get Ready to Lose All Your Excess Weight!
What Makes Weigh Down So Effective?
The Solution for Overweight
---
We have been trying to feed our hurting, longing hearts with physical food. We have also learned to love food. Through Weigh Down:


1. Relearn how to feed the stomach only when it is truly hungry.
2. Relearn how to feed or nourish the longing human soul with a relationship with God.
3. Relearn how to recognize the different "hunger" urges and not confuse them.
You are not a failure!
---
"I have tried every diet 5 times, every diet pill, and every exercise and failed miserably - so how can this work for me?"

You are not a failure, it is not genetic, and God is not sabotaging you. He does hope that your slavery to diets and overweight will make you call out to Him. You were using your will power and man's rules. God is too smart to let a local weight loss group or fat gram counting to be your Savior and get all the credit. Welcome to Weigh Down, a place where thousands of people are now thin after years of trying.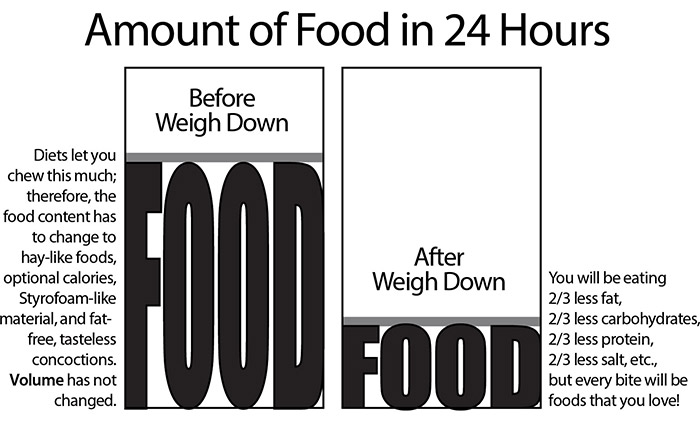 How Do You Lose Weight?
---
Once you stop going to food for escape, spacing out and comfort, and start swallowing regular food only when your stomach growls, you will eat just one-half to one-third of what you normally do. The desire eating goes away. That means you will lose weight!​